V is for Viking
Like thousands of others I hugely enjoyed the spectacle of Vikings crossing swords, spears and axes with Saxons in the energetic and well-performed battle reenactments at Heysham's Viking Festival in July. I was also impressed by the cultural reconstructions in the so-called Viking Village — where enthusiasts displayed skills in carving, cooking and weapon making. It all made me think it would be great if Warton and Silverdale could host its own Viking event – something to complement rather than clash with Heysham's Festival.
After all, in 2011 the third most important find of Viking treasure was unearthed here in what became known as the Silverdale Hoard. In 1997 a smaller hoard was discovered two or three miles away at Tewitfield.
One theory is that both collections of silver were buried by significant Viking warriors before they marched south to confront a Saxon army at Tettenhall near Wolverhampton — a clash which resulted in a heavy defeat for the Northmen. Having been recently immersed in John Lucas's History of the Parish of Warton, I'm also conscious of the deep-rooted folk memories about Vikings landing at Cote Stones in Warton, near where the River Keer meets the sea.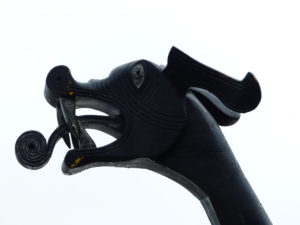 "Tradition does yet confidently affirm," wrote Lucas in or around 1720,"that the Danes landed here  [Cote Stones] in order to rob and pillage this Part of the Country. This, I suppose, must have been in the Year 966 when Thoredus the son of Gunner laid waste this Part of Lancashire [and] Westmoreland. Or in 990, when our Historians tell us the Danes entered almost all the Havens of the Land in great Multitudes, so that a man knew not where to resist them; or rather seven years after when having invaded the Coasts of Cornwall, Devonshire and South Wales, they retired to winter in the Northern Parts of England, and in the Isle of Man which they grievously wasted, and made it their retiring Place or Nest to lay their Spoils in."
Some of Lucas's dates may be a bit awry. The Silverdale Hoard – according to Dr Gareth Williams, the British Museum's Curator of Early Medieval Coinage – is likely to date from between 900 and 910 AD. Lucas speculated – with no obvious evidence! – that the Hare Stone on Warton Crag was the spot where a Saxon Army assembled to counter the Danes — "Hare or Here in the Saxon language signifying an Army….it being an Emminency, they might see them land, and observe all their Motions; and if they thought themselves not strong enough to engage them, might easily and safely retire to the Mountains".
What with Viking treasure, strong folk memory AND all the Norse place names — Arnside and Silverdale not least among them – there are good reasons to try and stage a Viking Veekend in the Parish. I'd love to stand at the Harestone and watch a longship beach at Cote Stones…while reserving the right to "easily and safely retire to the Mountains".
SaveSave
SaveSave
SaveSave
SaveSave
SaveSave
SaveSave
SaveSave
SaveSave
---
---